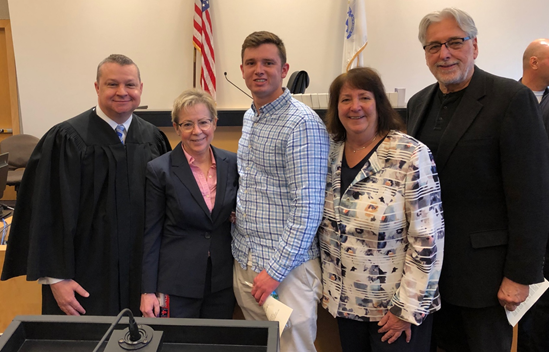 Patricia Saint James, a Partner at Tarlow Breed Hart & Rodgers and Chair of the firm's Family Law Practice, was an honored guest at the April 30, 2019 graduation ceremony at the Chelsea Drug Court. Pat's composition, "The Serenity Song" was played at the ceremony, in which seven graduates re-entered the community following an 18-month program of rigorous inpatient treatment and recovery assignments.
In an effort to address the rise in criminal offenses, fatalities, and substance abuse related issues among probationers, and to reduce the pernicious effect of drug distribution in the community, Drug Court sessions were established in Massachusetts approximately twenty years ago under the leadership of Justice Diana Maldonado of the Massachusetts Appeals Court to provide intensive substance abuse treatment with judicial supervision. Recognizing that jailing a person who suffers from addiction is not the solution to this epidemic, the Drug Courts require defendants with substance abuse problems to submit to random drug testing and participate in treatment programs and support groups as a vehicle for recovery. Today there are 21 state Drug Courts, as well as four Boston Municipal Drug Courts in operation.
Pat initially composed "The Serenity Song" for a client's off-Broadway play about addiction. The song is based on the serenity prayer that is widely used in drug treatment programs. When Chief Justice Carey and Chief Justice Dawley heard the song, they asked Pat if they could incorporate it into the Commonwealth's Drug Court programs.
Understanding the power that music could have in helping those who suffer from addiction find and express their own voice, Pat created The Serenity Project, whereby addicts in recovery programs could write their own story, in their own words, and record their stories in the music studio as a separate track over her song. Chief Justice Carey and First Justice Machera of the Chelsea District Court embraced the idea, as did Professor Bob Patton of the Berklee College of Music, and the project was launched. The first two rappers are Ethan Grove and Ava Grieco, who battled and overcame their personal addictions.
Pat says, "The Serenity Project provides individuals a supportive path to recovery through the power of music. We believe everyone has a purpose, and helping them take the first step to fulfill it is the most impactful work we can do."
Pictured (from left): Judge Matthew Machera, First Justice of the Chelsea District Court; The Honorable Paula Carey, Chief Justice of the Massachusetts Trial Courts; Ethan Grove, Recovery Speaker at the graduation, and rapper on "The Serenity Song" played at the ceremony; Patricia Saint James of Tarlow Breed Hart & Rodgers, P.C., composer of "The Serenity Song"; Professor Bob Patton, Berklee College of Music, who helped to produce and record "The Serenity Song."