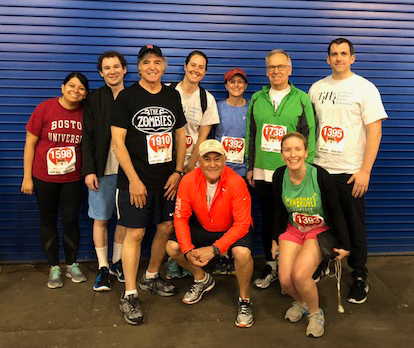 A speedy team of legal greyhounds from Tarlow Breed Hart & Rodgers recently participated in the 2018 "Lawyers Have Heart" 5K road race in Boston's Seaport District. Lacing up their running shoes for a good cause were (back row left to right): Stephanie Molina, Brian Hause, Al DeNapoli, Hannah Slaga, Emily Shanahan, John Stuebing, Dan St Germain; and (front row left to right): Rick Breed, Michelle Rothman.
Since 2008, runners and walkers involved in the legal community have joined together in the spirit of pro bono publico (for the public good) to raise over $2.6 million for the American Heart Association, and to change the heart health of Greater Boston. Lawyers Have Heart Boston has grown from hosting 400 attorneys in 2008, to hosting over 2,100 legal professionals (private practice, large firms, corporate/in-house, legal staff, government, and non-lawyer colleagues) in the annual race and post-race celebration in the Seaport.
If you are interested in helping support this worthy organization,
please consider making a donation by clicking here.