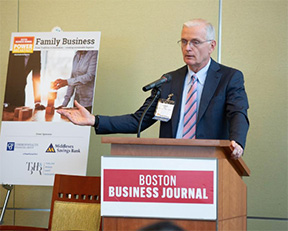 TBHR's Jeff Hart addresses the audience at the BBJ Power Breakfast
Tarlow Breed Hart & Rodgers, P.C. was a featured sponsor of the Boston Business Journal's Family Business Power Breakfast on October 3, 2019 at the Seaport Hotel in Boston. TBHR Partner Jeff Hart delivered welcoming remarks to the more than 200 attendees to start to program. This was followed by a lively panel discussion moderated by BBJ Market President Carolyn M. Jones with panelists, John Stephans, CEO of Zildjian Company, David Winston, owner of Winston Flowers, William J. Cleary, III, President of Cleary Insurance, and Ted Clark, Executive Director of the Center for Family Business at Northeastern University. The discussion involved the many issues faced by family businesses trying to successfully transition ownership and management to future generations. The panelists provided constructive insights into how they have met and overcome challenges to keep family businesses vibrant and thriving. We are proud to have played a part in supporting this important and valuable event. The BBJ Power Breakfast Series offers many compelling topics and insightful discussion on issues that drive our region's business and economy.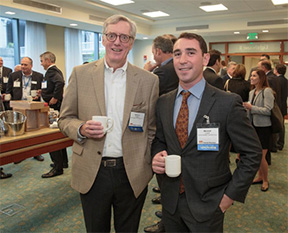 TBHR's Bill Rodgers (left), the Best Lawyers "Lawyer of the Year" for Closely-Held Companies and Family Business Law, with Marshall Lobell of Commonwealth Financial Services.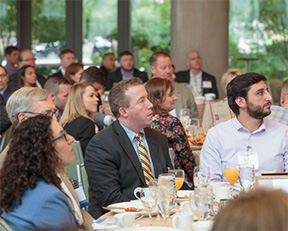 David Valente of TBHR at the BBJ Power Breakfast.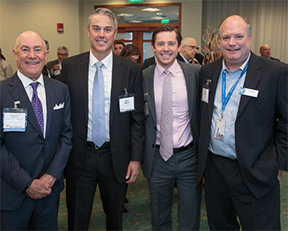 TBHR's Rick Breed, III (left) and Richard Breed IV (second from right) meet with Brad Mattox of Citizens Bank (second from left) and Paul Black of Webster Bank (right).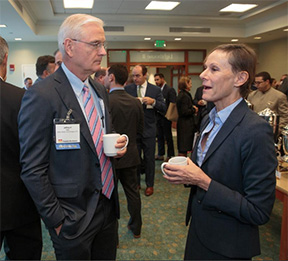 TBHR's Jeff Hart confers with Boston Business Journal Publisher Carolyn Jones.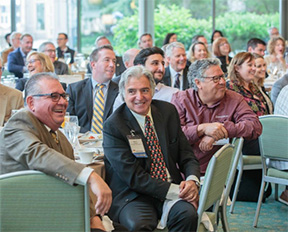 A full house attended at Boston's Seaport Hotel, including TBHR's Al De Napoli.