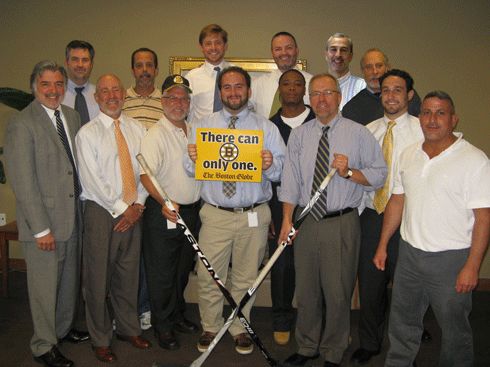 "Beardathon" participants at Tarlow, Breed, Hart & Rodgers, P.C. sport some scruff for the Boston Bruins during the Stanley Cup Playoffs.
Like many other Boston Bruins hockey fans, attorneys and staff members at the Back Bay law firm of Tarlow, Breed, Hart & Rodgers showed their excitement and support for the hometown team by participating in the Bruins "Beardathon" during the recent Stanley Cup Playoffs.
Rick Breed, one of the firm's founding members, got the ball rolling right after the Bruins' win over the Tampa Bay Lightning, advancing them to the finals. He immediately tossed out his razor, and started the firm's own "Beardathon" to show enthusiasm for the B's in their pursuit of Lord Stanley's Cup.
Money saved on razors and shaving cream was donated to the firm's Community Service initiative, which provides books and other school supplies to the Josiah Quincy Elementary School in Boston's Chinatown neighborhood.
It would seem that the weeks of scruffy superstitions paid off - the Bruins emerged victorious after a hard-fought, seven-game final series with the Vancouver Canucks, breaking a 39 year "Cup drought" to bring home their sixth cup in the team's history.
Congratulations to the Bruins!
About Tarlow, Breed, Hart & Rodgers, P.C.
Formed in 1991, Tarlow, Breed, Hart & Rodgers, P.C. is committed to providing high quality, comprehensive legal services to its clients. Featuring a breadth and depth of experience and perspective usually found only at larger law firms, Tarlow, Breed, Hart & Rodgers. P.C. offers sophisticated legal counsel to entrepreneurs, businesses, individuals, families, and institutions.
Tarlow, Breed, Hart & Rodgers' areas of expertise include corporate law, employment matters, mergers and acquisitions, litigation and dispute resolution, estate planning, taxation, real estate, bankruptcy, and municipal law.
The offices of Tarlow, Breed, Hart & Rodgers, P.C. are located at 101 Huntington Avenue, Prudential Center, in Boston, MA 02199. For additional information, or to arrange for a consultation, please call (617) 218-2000, e-mail info@tbhr-law.com, or visit www.tbhr-law.com.
###