Mass Truck Body & Trailer, Inc. - A Family First Business
For more than 50 years, Mass Truck Body & Trailer, Inc. has been known for its state-of-the-art truck repair, old school service and customer satisfaction. Yet more than its products or services, Mass Truck Body & Trailer is known as a true family business, starting with founder Anthony DiRocco.
Mass Truck's beginnings hearken back to another era in our country. When Anthony DiRocco and his partners moved into a rented tin garage in Everett, the building had dirt floors and no plumbing. To keep warm, they had a fire burning in a barrel, just like you would see in an old 1930's movie. In 1964, the company moved to its current location at 60 Arlington Street in Chelsea.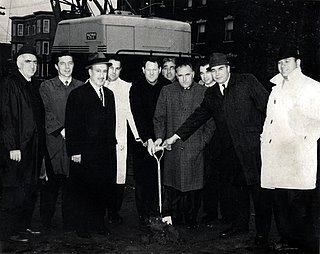 Groundbreaking for Mass Truck, October 1963
DiRocco and his partners grew the business gradually over the first dozen years or so. In 1971, Mass Truck expanded, opening the trailer parts portion of the business, Trailer Equipment, Inc., in the building right next door, site of the former Mass Feather Company. Miraculously, both survived the Great Chelsea Fire of 1973, the only two buildings and businesses in the area to survive completely intact.
By having the parts store right next to the repair shop, Mass Truck Body & Trailer Equipment unleashed a winning combination. When trucks came into Mass Truck Body for repair, there was no waiting for any parts - just a quick walk next door. Conversely, Trailer Equipment had a built-in customer base with Mass Truck Body, while also being able to sell to walk-in traffic and the general public.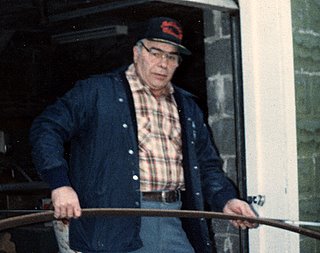 Anthony DiRocco at work
When Anthony DiRocco and his original partners parted ways, it left him with a huge decision: do I continue to run the business or sell it and move on? Not really looking to take on new partners, DiRocco turned to his eldest son John to bring him into the business. A Vietnam vet, John DiRocco and his wife Karen had just started a family. They had a young daughter, Lisa, and they were also expecting their first son, Johnny, when Anthony approached his son about joining Mass Truck Body & Trailer. John now faced a difficult decision himself; he decided to join his father in the business.
As John explained, "I was working for Star Market and I also had a business of my own on the side, Truck and Trailer Refrigeration. I debated about what to do, but what it really came down to was I wanted to help my father. I ended up joining him in September 1976, after my son was born."
Shortly after John joined Mass Truck Body, his brother Mike started working for Trailer Equipment next door Mike took over as manager in 1981, making it even more of a family business. Mike's dedication and business sense has greatly contributed to both companies' continued success.
In a family business, the transition from one generation to the next can be difficult, even when thoroughly planned in advance. In many cases, it can lead to the end of the business. With the sudden passing of Anthony DiRocco in 1987, John DiRocco faced a similar dilemma as his father had years earlier: continue on with the business, take on partners or close up shop.
Thinking back to his father's efforts to start, grow and then continue the business on his own, John DiRocco made a difficult decision. Even though the sacrifices would be many, he opted to continue his father's legacy of affordable truck body and trailer repair and superior customer service, satisfaction guaranteed. It's a decision he's never regretted.
Today, with its 12 bays and staff of highly trained, certified truck body service technicians, Mass Truck Body & Trailer, Inc. remains a fixture in the truck parts and repair business, taking a backseat to no other repair shop when it comes to price, quality, or workmanship - something Anthony DiRocco would be most proud of - and also for his sons' sacrifice and hard work.
For more information on Mass Truck Body & Trailer's complete list of services, please call (617) 889-2115, or stop by the shop at 60 Arlington Street in Chelsea, MA. You can also visit www.masstruckbody.com.
Press Release: A practice of putting family businesses first�Tarlow Breed Hart & Rodgers, P.C. has a long history of success in advising family businesses.