Boston, MA - Employees from Tarlow, Breed, Hart & Rodgers, P.C. (TBHR), a law firm located in
Boston's Back Bay, delivered schoolsupplies yesterday to 120 first grade students at the Josiah Quincy Elementary School in Boston's Chinatown neighborhood. Lead by the firm's Community Team, TBHR established a fund with contributions from employees, matched by the firm, with the goal of purchasing supplies for three first grade classes. In the end, the Team raised enough funds to purchase supplies for the entire first grade.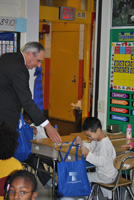 Earlier this week, TBHR employees met to fill colorful tote bagswith all the supplies the first graders would need for the start of their year, including plenty of pencils, markers, crayons, erasers, scissors, rulers, glue sticks, addition flash cards and water bottles.Representatives from TBHR's Community Team, joined by attorneys Albert DeNapoli, Mark Furman and Terrence Schwab, gave classroom supply bags to each child in all six of the school's first grade classrooms. Al DeNapoli remarked that the assembly process was a great team project for TBHR and added, "We really appreciate the hard work of our Community Team. Everyone at the firm was excited to help them with this project."
Simon Ho, principal of the Josiah Quincy Elementary School, greeted the firm's representatives while they were delivering the supplies to one of the classrooms. "I'm so appreciative of everything [TBHR] is doing for our children," said Ho. Beverly Ryan, one of the school's first grade teachers, echoed the principal's sentiments adding, "This is amazing. The children and teachers are thrilled."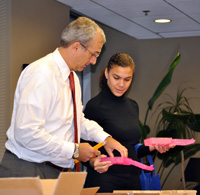 The Josiah Quincy Elementary School enrolls children in grades K – 5. More than three-quarters of its students come from low-income households and receive free or reduced school lunch. In tough economic times when school systems are squeezed by budget demands, the burden of acquiring enough school supplies for students often falls upon teachers and school administrators. In addition to providing the school children with supplies, the TBHR Community Team purchased cases of tissues and hand sanitizer for the first grade classrooms. "The response we've received from our employees has been excellent. Everyone has been eager to help these kids," said Mark Furman.
The TBHR Community Team is comprised of three attorneys, Jennifer Civitella Hilario, Karen L. McKenna and Terrence M. Schwab, paralegal Jackie Scott, and four legal assistants, Christine Courtney, Nakeisha Johnson, Jennifer McGill and Jessica Spruill. Ms. McGill, one of the organizers for this project, said the team looks forward to continuing its work with the Josiah Quincy Elementary School, and noted TBHR hopes to host an event later this year to solicit donations for providing hats, gloves and winter coats to the school's children in need.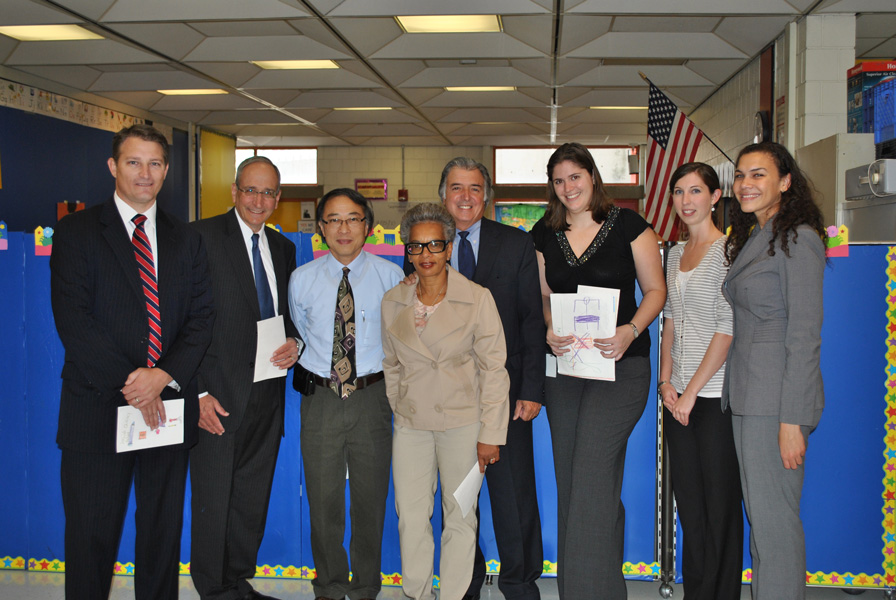 L-R: Terrence Schwab, Mark Furman, Simon Ho (Josiah Quincy school principal), Jacqueline Scott, Al DeNapoli, Jennifer McGill, Beverly Ryan (Josiah Quincy first grade teacher), Nakeisha Johnson
About Tarlow, Breed, Hart & Rodgers, P.C.
Formed in 1991, Tarlow, Breed, Hart & Rodgers, P.C. is committed to providing high quality, comprehensive legal services to its clients. Featuring a breadth and depth of experience and perspective usually found only at larger law firms, Tarlow, Breed, Hart & Rodgers. P.C. offers sophisticated legal counsel to entrepreneurs, businesses, individuals, families, and institutions.
Tarlow, Breed, Hart & Rodgers' areas of expertise include corporate law, employment matters, mergers and acquisitions, litigation and dispute resolution, estate planning, taxation, real estate, bankruptcy, and municipal law.
The offices of Tarlow, Breed, Hart & Rodgers, P.C. are located at 101 Huntington Avenue, Prudential Center, in Boston, MA 02199. For additional information, or to arrange for a consultation, please call (617) 218-2000, e-mail info@tbhr-law.com, or visit www.tbhr-law.com.
###