BOSTON, MASS. - In the spring of 2009, Boston-based Tarlow Breed Hart & Rodgers, P.C. (TBHR) voluntarily joined the Boston Redevelopment Authority (BRA) and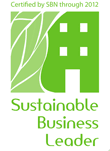 MassachusettsDepartment of Environmental Protection (DEP)'s Sustainable Business Leader Program (SBLP). After one year of employing greener practices at their 101 Huntington Avenue-based practice, the firm has been officially certified as a Sustainable Business Leader.
The program that helped TBHR earn its accreditation was developed as a result of SBLP's comprehensive audit, which focused on six key areas: waste reduction, water and energy conservation, transportation solutions and pollution prevention. The firm created a "Green Team" of attorneys and staff to develop achievable changes to challenge all personnel to take a moment to think before they consume.
"Lawyers not only have a tendency to use too many words, but also to use too many pieces of paper, printing and reviewing multiple drafts of legal documents even for just minor changes, just to be safe," said Michael Radin, a TBHR member and participant on the Green Team. "Our entire staff, particularly the members of our Green Team, are to be commended for embracing the changes we incorporated to reduce our carbon footprint and achieve our objective of becoming a Sustainable Business Leader."
TBHR received its official certification in a ceremony on Thursday, May 6, 2010 at the Boston Redevelopment Authority's offices at Boston City Hall. James Hunt, the Boston Chief of Environmental and Energy Services, presented the official certification of 'Sustainable Business Leader' to the graduating companies, which in addition to TBHR included:
Beacon Hill Athletic Club
City Feed and Supply
Economy Hardware
Fornax Bakery
Howard/Stein - Hudson Associates, Inc.
New Boston Fund
State Room
"What's been an enlightening part about this process is the need to educate others on the lots of little things we can do that collectively have a huge impact," said Jennifer Civitella Hilario, an associate and member of the firm's Green Team. "Thanks to SBLP and our Green Team, we're a greener company and have a group in place actively looking for ways to improve the efficiency of our energy use."
The SBLP was formed in 2008 via collaboration between the DEP and the BRA. SLBP has worked with more than 60 businesses to become sustainable leaders in the community. Each business completes SBLP's rigorous assessment and receives personalized technical assistance over a six-month period before becoming eligible for the Sustainable Business Leader status.
For more information on the SBLP, visit http://www.sustainablebusinessleader.org.
SBLP Press Release - Eight Boston Companies to be Certified as Sustainable Business Leaders
About Tarlow, Breed, Hart & Rodgers, P.C.
Formed in 1991, Tarlow, Breed, Hart & Rodgers, P.C. is committed to providing high quality, comprehensive legal services to its clients. Featuring a breadth and depth of experience and perspective usually found only at larger law firms, Tarlow, Breed, Hart & Rodgers. P.C. offers sophisticated legal counsel to entrepreneurs, businesses, individuals, families, and institutions.
Tarlow, Breed, Hart & Rodgers' areas of expertise include corporate law, employment matters, mergers and acquisitions, litigation and dispute resolution, estate planning, taxation, real estate, bankruptcy, and municipal law.
The offices of Tarlow, Breed, Hart & Rodgers, P.C. are located at 101 Huntington Avenue, Prudential Center, in Boston, MA 02199. For additional information, or to arrange for a consultation, please call (617) 218-2000, e-mail info@tbhr-law.com, or visit www.tbhr-law.com.
###